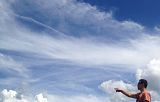 Giacomo Braccialarghe
Cape Town, South Africa
More artworks by this artist
STYLE
Figurative, Realism
MEDIUM
Acrylic, Mixed media
Artwork inspired by Africa expressing the power and beauty of African culture and its legacy. The richness of Africa such as its people, culture and land is represented by the Gold leaf, one of the five predominant colors used in this series of artworks called AFRICANA.
Leave a comment
You must register or login
You must be logged in to follow. Please register or login to continue.