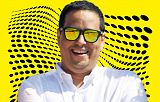 Carlos Marcano
Barcelona, Spain
More artworks by this artist
Certificate of authenticity
Yes
My representation of a river. Work done in methacrylate, in layers. With a pattern that denotes depth. The work can be made using a combination of two colors and the size can also be custom-made.
Leave a comment
You must register or login
You must be logged in to like or follow. Please register or login to continue.