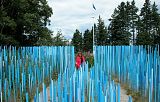 Gaëtane Voyer
Mont-Saint-Hilaire, Canada
In Gallery
More artworks by this artist
Utilisation de matériaux recyclés (fibres, plumes, pierre). L'environnement fait partie intégrante de ma recherche. En utilisant des objets récupérés me permet de faire une infime part à sa conservation. Un message d'espoir que je veux laisser aux futures générations.
Leave a comment
You must register or login
You must be logged in to like or follow. Please register or login to continue.