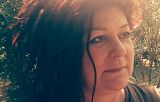 Gabriella Barath
Budapest, Hungary
More artworks by this artist
Certificate of authenticity
Yes
The painting is painted on leather laced on wooden board, oil. Size: 1 diameter My artwork is based on spiritual experiences. This is how I saw the essence of the Moon. But as we know the moon is always changing.
Leave a comment
You must register or login
You must be logged in to like or follow. Please register or login to continue.