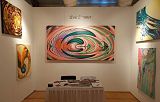 Evie Zimmer
Cleveland, United States
More artworks by this artist
This is the third, and perhaps the best, version of my Osiris paintings. I started the series with a small version for a gallery that mostly shows smaller paintings. The second one, 36" x 48", was done for a solo exhibit in California. In the meantime, a gallery here in Cleveland used the image on promotional materials so I was obligated to paint a third... even bigger and better! The paintings are named for the NASA mission Osiris-Rex, which carried on board a CD of artworks including one of my paintings.
Leave a comment
You must register or login
You must be logged in to like or follow. Please register or login to continue.