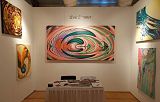 Evie Zimmer
Cleveland, United States
More artworks by this artist
STYLE
Abstract, Contemporary Art, Modern, Other styles
Last month, as I started working on this piece, a NASA spacecraft launched heading for an asteroid. One of my earlier works, along with many others from artists all over the country, is aboard the spacecraft. I thought about this during my process and decided to name this work after the mission which is call Osiris-Rex.
Leave a comment
You must register or login
You must be logged in to like or follow. Please register or login to continue.