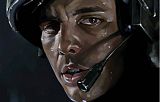 El Pjongo
Belgrade, Serbia
More artworks by this artist
STYLE
Drawings & Painting, Mixed Media, Other styles
Certificate of authenticity
Yes
Digital Painting. Limited Edition Original #ElPjongo Print / numbered and signed by the Author. Available in other formats. This format is currently the biggest one I do and I recommend it, due to all the details of the painting, which tend to get lost on a small format print. Payment can be in Euros or, for Serbian buyers, in dinars (counting the exchange rate on the day of the sale). Feel free to check out my brand new FB and IG El Pjongo pages. Welcome!
Leave a comment
You must register or login
You must be logged in to like or follow. Please register or login to continue.