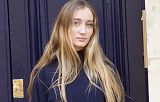 Eleonore Bntr
Paris, France
More artworks by this artist
Certificate of authenticity
Yes
Peinture à l'huile représentant une Mercedes avec un fond que j'ai imaginé. J'ai choisi des teintes vives pour le cadre, je trouvais que cela faisait ressortir la voiture.
Leave a comment
You must register or login
You must be logged in to like or follow. Please register or login to continue.