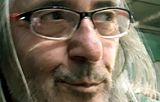 Eduardo Saro
Murcia, Spain
More artworks by this artist
Certificate of authenticity
Yes
Dentro de la confusión y transformación permanente. Toma fuerza el secretismo. La composición aumenta la angustia que puede representar el morir asesinado o "atragantado" en el lavabo....
Leave a comment
You must register or login
You must be logged in to like or follow. Please register or login to continue.