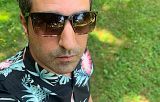 Eduardo Bessa
Porto, Portugal
More artworks by this artist
STYLE
Abstract, Contemporary Art, Expressionism, Pop Art, Street Art
MEDIUM
Acrylic, Mixed media, Oil, Others
Certificate of authenticity
Yes
The initial idea was to take advantage of materials and inks that were not being used and to reuse and recycle materials and canvas. This job was an acrylic palette that I've used since 2000 to do a lot of work and it had a lot of mixed paints. It is the story of an impossible love is a love destroyed, a disappointment for what I suffered and emotional destruction of self love, love for art already born of art itself and a rain mixed feelings to see the birth of new loves or opportunities. A combination of the abstract and the real of a life where nightmares come true ... I used epoxy resin and glitter to make it brilliant ...
Leave a comment
You must register or login
You must be logged in to like or follow. Please register or login to continue.