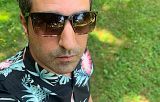 Eduardo Bessa
Porto, Portugal
More artworks by this artist
STYLE
Conceptual, Contemporary Art, Expressionism, Figurative, Mixed Media, Modern, Pop Art, Street Art
MEDIUM
Acrylic, Mixed media
Certificate of authenticity
Yes
Artist's description: You didn't notice but im the key to you reach the stars... Materials used: paper cardboard , acrylic I have already sold artworks for the whole world, I can send my artwork to any place in the world with all the security measures, if you like any work please contact we can talk about the price and the shipping. Special prices for artlovers its a pleasure for me selling my artwork to anyone who likes my work.
Leave a comment
You must register or login
You must be logged in to like or follow. Please register or login to continue.