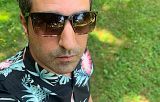 Eduardo Bessa
Porto, Portugal
More artworks by this artist
STYLE
Abstract, Contemporary Art, Expressionism, Modern, Pop Art, Street Art
MEDIUM
Acrylic, Mixed media, Others
Certificate of authenticity
Yes
The initial idea was to take advantage of materials and inks that were not being used and to reuse and recycle materials and canvas. God writes straight on crooked lines - it is a hope that someday life will be fair and the truth will be told ... I used epoxy resin and glitter to make it brighter ...
Leave a comment
You must register or login
You must be logged in to like or follow. Please register or login to continue.