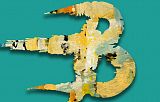 Dragos Botezat
Bucharest, Romania
More artworks by this artist
STYLE
Contemporary Art, Impressionism, Surrealism
MEDIUM
Acrylic, Mixed media, Oil
My passion for traveling in natural environments was inherited by the formal analysis of the silhouette I developed from time to time from the vertical axis of human verticality, defining the median as the essence that wants to erupt. There have been times in life as well as in art where we treated obsessively and seriously a form with different interests and appreciations. Of course, when you work, many things happen at the same time, and then you always adapt and create the new constraints of a visionary frame.
Leave a comment
You must register or login
You must be logged in to like or follow. Please register or login to continue.