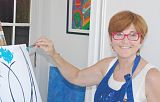 Dominique JOYEUX
Castries, France
More artworks by this artist
Quand des formes turquoise semblent s'animer sous notre regard et que tout s'apaise. When turquoise shapes seem to come alive under our gaze and everything calms down.
Leave a comment
You must register or login
You must be logged in to like or follow. Please register or login to continue.