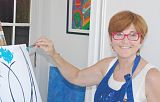 Dominique JOYEUX
Castries, France
More artworks by this artist
Quelques nuits par an au moment du printemps austral c'est la ponte des les coraux : ce spectacle émouvant bouscule les légendes anciennes entre fertilité et univers stellaire. A few nights a year at the time of the austral spring is the laying of the corals: this moving spectacle upsets old legends between fertility and stellar universe.
Leave a comment
You must register or login
You must be logged in to like or follow. Please register or login to continue.