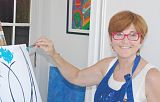 Dominique JOYEUX
Castries, France
More artworks by this artist
CORAUX ET COURANTS / CORAL AND CURRENTS - Huile sur toile 75-110- Nos merveilleux océans, infestés par les reliefs de notre civilisation post-industrielle, sont en train de voir dépérir une de leurs plus grandes richesses, les coraux. Il nous faut espérer que les courants marins contribueront à réguler une partie de ce processus et que les hommes deviendront plus sages. CORAL AND CURRENTS OIL ON CANVAS 75-110 Our wonderful ocean infested with reliefs of our post-industrial civilization, are seeing wither one of their greatest treasures, corals. We must hope that the ocean currents help regulate a part of this process and that men become wiser.
Leave a comment
You must register or login
You must be logged in to like or follow. Please register or login to continue.