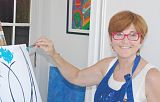 Dominique JOYEUX
Castries, France
More artworks by this artist
CONTINENTS ENDORMIS / ASLEEP CONTINENTS- Huile ,medium variés 92/92- Un espace aérien ou marin où des formes sculptées dans des tonalités douces se déploient, se rencontrent sans se heurter, protégées par une membrane mordorée qui parcourt toute la toile. ASLEEP CONTINENTS- Oil, sand, plaster,glue, gesso, sawdust An air or marine space where shapes sculptured in soft colours are spreading, and meet without colliding, being protected by a bronze membrane travelling all the painting.
Leave a comment
You must register or login
You must be logged in to like or follow. Please register or login to continue.