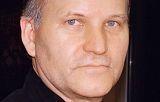 Dietrich Moravec
Burgau, Germany
More artworks by this artist
Certificate of authenticity
Yes
An artist - may he be a painter or a poet - can tell a lot of things with flowers. For centuries flowers and blossoms have been symbols of purity and innocence. In this painting a bunch of lilly blossoms lay on a reflecting surface. The viewer can see the real flowers (their being) as well as their reflection (their appearance). What is reality? What is appearance?
Leave a comment
You must register or login
You must be logged in to like or follow. Please register or login to continue.