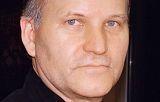 Dietrich Moravec
Burgau, Germany
More artworks by this artist
Certificate of authenticity
Yes
Grapes vary in color from green to yellow to red to blue. In this case I painted the red kind. Acrylic and oil on canvas panel, covered with several layers of UV-resistant varnish.
Leave a comment
You must register or login
You must be logged in to like or follow. Please register or login to continue.