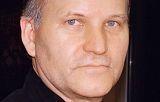 Dietrich Moravec
Burgau, Germany
More artworks by this artist
Certificate of authenticity
Yes
Why do I love to paint fruits? Because they offer a great range of variety in shape, colors and textures - and btw, they taste awfully good. Peaches have a color range from yellow to orange to a deep dark red. Their skin is like velvet. And the three guys I have painted here have even a pattern on their skin. A real challenge to paint. Acrylic on canvas panel, covered with several layers of UV-resistant varnish.
Leave a comment
You must register or login
You must be logged in to like or follow. Please register or login to continue.