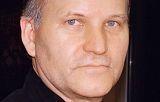 Dietrich Moravec
Burgau, Germany
More artworks by this artist
Certificate of authenticity
Yes
Snails are certainly not the kind of pets everyone would like to have around in his home, but to me they have a certain attraction. Carrying their home on their back, scaling it up permanently, moving slowly but constantly where they want to get to. Their body is so flexible that they can even crawl over a razor blade. And they can eat all the flowers in your garden overnight. Impressive! Acrylic on canvas panel, covered with several layers of UV-resistant varnish.
Leave a comment
You must register or login
You must be logged in to like or follow. Please register or login to continue.