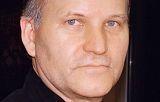 Dietrich Moravec
Burgau, Germany
More artworks by this artist
Certificate of authenticity
Yes
Beetles may become my new favourites in painting. They are so versatile in shape, colour and texture, some look even like aliens. This one belongs to the species of stag beetles and I enjoyed it very much to paint him, as well as the structured background. Acrylic and oil on canvas panel.
Leave a comment
You must register or login
You must be logged in to like or follow. Please register or login to continue.