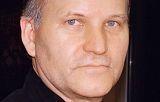 Dietrich Moravec
Burgau, Germany
More artworks by this artist
Certificate of authenticity
Yes
French Bulldogs are cute dogs, but nevertheless they can look very intimidating. I certainly would not dare to take his ball away. Acrylic and oil on canvas panel.
Leave a comment
You must register or login
You must be logged in to like or follow. Please register or login to continue.