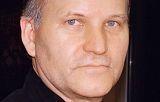 Dietrich Moravec
Burgau, Germany
More artworks by this artist
Certificate of authenticity
Yes
I could not resist the wordplay in the title of this drawing. Eight lilly buds awakening great expectations of wonderful blossoms. When I chose the title I remembered the novel from Charles Dickens that I read when I was a pupil. Coloured pencils on Bristl paper.
Leave a comment
You must register or login
You must be logged in to like or follow. Please register or login to continue.