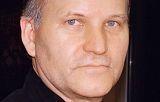 Dietrich Moravec
Burgau, Germany
More artworks by this artist
STYLE
Photorealism, Realism
Certificate of authenticity
Yes
In my landscapes you will seldom find any human being in there. So I can have the illusion this part of the world is reserved for me, for recreation and meditation. Oil and acrylic on canvas panel.
Leave a comment
You must register or login
You must be logged in to like or follow. Please register or login to continue.