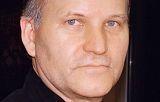 Dietrich Moravec
Burgau, Germany
More artworks by this artist
STYLE
Photorealism, Surrealism
Certificate of authenticity
Yes
I am not a wildlife or pet painter, but from time to time I love to paint some animals. Especially when they have a exceptional attitude as the doggie in this painting. I think anybody can imagine what this cute little guy really did, but I changed the scene by adding a egg. So the painting got a new mind-boggling meaning. Acrylic on canvas panel, covered with several layers of UV-resistant varnish.
Leave a comment
You must register or login
You must be logged in to like or follow. Please register or login to continue.