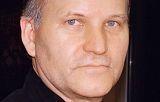 Dietrich Moravec
Burgau, Germany
More artworks by this artist
Certificate of authenticity
Yes
Beetles are some of the most versatile species on earth. Though their physique is basically the same within all beetles, they differ widely in size, color, mandibles, antennae and other modulations of their body shape. Many of them are real flying jewels. I enjoy very much to paint them, somMore paintings of beetles will certainly come. Acrylic on canvas panel, covered with several layers of UV-resistant varnish.
Leave a comment
You must register or login
You must be logged in to like or follow. Please register or login to continue.