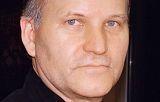 Dietrich Moravec
Burgau, Germany
More artworks by this artist
These famous chalk cliffs of the Ruegen island in the Baltic sea inspired quite a lot of artists, like Caspar David Friedrich e.g. (and now me too). Oil on canvas panel.
Leave a comment
You must register or login
You must be logged in to like or follow. Please register or login to continue.