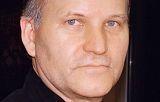 Dietrich Moravec
Burgau, Germany
More artworks by this artist
Certificate of authenticity
Yes
Grapes vary in color from green to yellow to red to blue. Although I painted this bunch of grapes very realistically, each grape is in fact an abstract painting by itself. One could even consider them as planets with oceans and continents. Acrylic on canvas panel, covered with several layers of UV-resistant varnish.
Leave a comment
You must register or login
You must be logged in to like or follow. Please register or login to continue.