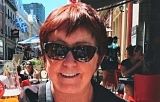 Diane Cantin
Québec, Canada
More artworks by this artist
STYLE
Contemporary Art, Realism
Certificate of authenticity
Yes
Je ne sais pas si vous êtes comme moi mais j'ai bien hâte que le confinement soit terminé et que l'on puisse, entre autres, aller se balader dans le Vieux Québec. En attendant, je vous présente cette toile que j'ai faite récemment. Vous avez sûrement reconnu le coin? La magnifique tabagie Casse-cou sur la rue Sous-le-Fort ainsi que le Funiculaire qui permet de se rendre au Château Frontenac.
Leave a comment
You must register or login
You must be logged in to follow. Please register or login to continue.