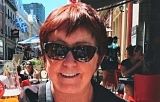 Diane Cantin
Québec, Canada
More artworks by this artist
STYLE
Contemporary Art, Street Art, Expressionism, Impressionism, Realism
Certificate of authenticity
Yes
« Douceur printanière » Quoi de mieux que de lire un bon livre. Pour ceux qui restent à Québec ou qui sont venus dans notre Belle ville, avez sûrement reconnu le Super Château Frontenac dans toute sa splendeur.
Leave a comment
You must register or login
You must be logged in to follow. Please register or login to continue.