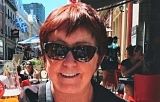 Diane Cantin
Québec, Canada
More artworks by this artist
STYLE
Street Art, Expressionism, Impressionism, Realism
Certificate of authenticity
Yes
« Ambiance estivale » Ceux qui demeurent à Québec ou qui sont venus visiter notre Belle Ville de Québec, avez sûrement visité la Rue du Trésor qui se trouve juste en face du Château Frontenac. Toujours beaucoup de monde et bien du plaisir.
Leave a comment
You must register or login
You must be logged in to follow. Please register or login to continue.