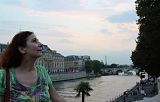 Diana Coatu
Sibiu, Romania
More artworks by this artist
STYLE
Drawings & Painting
Digital Painting on Paper or Canvas .Created in 2019.In the dreamtime today's masks detach and fall down, the instincts are tamed and the wing of infinity leads you to new distances and adventures. Everything coexists and surprising connections emerge, synchronicities, mysterious possibilities. A new unity in a magical diversity. The first kaleidoscopic gallery of the being...
Leave a comment
You must register or login
You must be logged in to like or follow. Please register or login to continue.