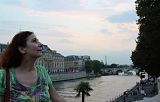 Diana Coatu
Sibiu, Romania
More artworks by this artist
STYLE
Drawings & Painting
Certificate of authenticity
Yes
Digital Painting 2019. Oil, Pastel,Fiber, Texturizer . Created with Corel Painter. Limited Edition of #1.Available printed on canvas .100% cotton, archival inks. Museum Quality.Unframed.Image:152 x 122 cm. Depth:0.3 - 0.55 cm .White border around the image to allow for future framing and matting, if desired.Certificate of authenticity signed by the artist. Printing process : Commissioned original artwork produced on demand. Delivery : Ready to ship 16 working days after order is placed.
Leave a comment
You must register or login
You must be logged in to like or follow. Please register or login to continue.