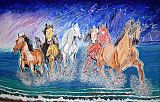 Denis Roucau
Montréal, Canada
More artworks by this artist
Les chevaux sont un symbole de force et d'endurance. Ce tableau est vendu. Par contre, plusieurs autres sont toujours disponibles! Visualisez la suite de mes oeuvres sur ma page pour y trouver un cadeau pour vous ou votre entourage! Profitez d'un rabais de 30% sur le prix affiché. Au plaisir de vous partager ma passion!
Leave a comment
You must register or login
You must be logged in to like or follow. Please register or login to continue.