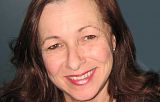 Denise Turcotte
Mirabel, Canada
More artworks by this artist
Vent de changement Il y a parfois de ces grands vents que l'on sent venir de loin et auxquels on ne veut résister, oubliant toute protection, n'ayant pour couverture que le ciel qui présage de temps meilleurs. J'accueille ce vent et entre dans sa danse me laissant porter vers d'autres horizons confiante et sereine car il me souffle à l'oreille combien il m'aime.
Leave a comment
You must register or login
You must be logged in to like or follow. Please register or login to continue.