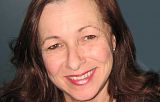 Denise Turcotte
Mirabel, Canada
More artworks by this artist
Rouge orient (Guesha) Tu as fais de moi une femme, vêtue de sa passion, qui n'accepte désormais que l'amour et l'unité. Pour toi, j'ai laissé tomber mon voile, abaissant ma protection. Et puis, je t'ai offert ma clé, celle qui te permet de franchir cette porte qui conduit tout droit à mon coeur. En mon ventre, tu y as pris racines. Des racines qui savent traverser mes barrières, me ramenant des profondeurs, reliant en moi le ciel et la terre. À tout jamais, en mon être, je garderai mémoire de ta présence.
Leave a comment
You must register or login
You must be logged in to like or follow. Please register or login to continue.