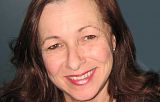 Denise Turcotte
Mirabel, Canada
More artworks by this artist
Luminescence La couleur de ton âme Cette lumière qui émane de toi, qui te fait briller à nos yeux. Ne sais tu pas la reconnaître? Pourtant tu la vois si bien chez les autres. Tu as beau regarder dans ton miroir et tu ne la vois toujours pas? Pourtant on l'évoque si souvent. Et si tu regardais avec les yeux de ton cœur, tout comme tu sais voir les autres? Tu sais pourtant si bien aimer. L'amour, la reconnaissance, la clémence et la générosité font partie de toi, c'est donc toi! Quelle est donc ta couleur et sa lumière? Partages-en son éclat. Partage ta joie de la création avec le monde qui t'entoure. Tel est le véritable amour.
Leave a comment
You must register or login
You must be logged in to like or follow. Please register or login to continue.