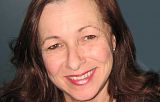 Denise Turcotte
Mirabel, Canada
More artworks by this artist
Au fil de tes mots De fil en aiguille, s'enfilent des perles de mots qui se déposent sur mon cœur et qui me portent vers de nouveaux horizons. Au fil de ces mots, je me laisse transporter dans des univers d'encre et de papier ; buvard de mes émotions, terreau de mon imagination. Ces univers forcent ma bulle et s'y infiltrent brisant son confort, l'ouvrant sur un monde, fait de rêve et de réalité. Ce passage, entre deux univers, semble s'imposer à moi. Il se présente à ma fenêtre, force mes barrières encore closes et me demande d'ouvrir sur ce nouveau monde. Il n'attend pas ma réponse, il sait que mes barrières ne sauront résister et que je ne pourrai me contenter de regarder à ma fenêtre close. Alors, j'ouvrirai sur ce monde qui s'offre à moi et au fil de ces mots, je prendrai mon envol.
Leave a comment
You must register or login
You must be logged in to like or follow. Please register or login to continue.