Yoga sculpture / Yoga statues / Yoga figurines / Yoga Statues figurines / Yoga sculptures sale / Home decor statues / Decorative Statues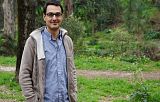 Dendrinos gIANNIS
Athens, Greece
More artworks by this artist
Certificate of authenticity
Yes
Sculpture: Metal on Steel. Yoga sculpture / Yoga statues / Yoga figurines / Yoga Statues figurines / Yoga sculptures sale / Home decor statues / Decorative Statues A Yoga metal sculpture made of scrap metal parts. An amazing Yoga Statue Figurine for any modern or classic Home Decoration! Dimensions: 15x15x30cm 5Kg My inspiration about this sculpture is originating from personnal metaphysical need to express the metamorphosis (transformation) from material form to conscient form.
Leave a comment
You must register or login
You must be logged in to like or follow. Please register or login to continue.