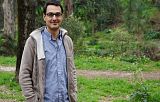 Dendrinos gIANNIS
Athens, Greece
More artworks by this artist
Certificate of authenticity
Yes
Sculpture: Metal on Steel. art tree sculpture | tree metal sculpture | amazing metal sculptures | original sculptures for sale | tree art | tree art metal | tree sculpture art for sale | modern tree sculpture | tree sculpture | modern art sculpture | sculpture | metal art Tree sculpture is a sculpture inspired by the Greek financial crisis. Following the economic crisis, there was a big social crisis in the Greek society. Inspired by the "falling" classic bonds of society, I created this metal sculpture. It represents the connections between all people in a society. Schematically the tree symbolizes society. The natural environment of African landscape, the primitive way of life and my father's metal workshop where I used to spend many hours playing are the basic reasons that led me to metal sculpture by using engine's spare parts. They provide me with shapes and forms which I weld, grind, polish and finally varnish. I feel that I always have something new to discover which lead to new ideas and inventions. Using parts is about constructing, assembling, disassembling. Try the infinite possibilities of combining various objects to form what I have in my mind. My current themes are mostly humanoid. As am attempt to show the fragile nature of mankind through the birth cycle, the creation process, motherhood, love. On the other side, I experience metal sculpture as a game and revive my need to play by creating vehicles such as motorbikes, cars and trains.
Leave a comment
You must register or login
You must be logged in to like or follow. Please register or login to continue.