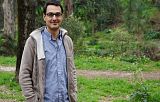 Dendrinos gIANNIS
Athens, Greece
More artworks by this artist
Certificate of authenticity
Yes
Family metal art sculpture for sale A sculpture inspired by family love and parenthood. Created with scrap metal toold, this sculpture is a part of collection of sculpture about evolution, mankind. I aim to express a feeling of love by using hard materials as scrap industrial metal parts.
Leave a comment
You must register or login
You must be logged in to like or follow. Please register or login to continue.