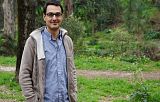 Dendrinos gIANNIS
Athens, Greece
More artworks by this artist
Certificate of authenticity
Yes
This Atlas statue art sculpture is made of scrap metal parts. It represents a modern version of the ancient Titan Greek mythological God Atlantas (Greek) or Atlas (latin. Inspired by the ancient Greek God who was condemned to hold the celestial sphere, I created a modern version of Atlas. My version of Atlas is holding the universe in his infinite versions in which we stand. The materials I use are mainly steel and scrap metal parts.
Leave a comment
You must register or login
You must be logged in to like or follow. Please register or login to continue.