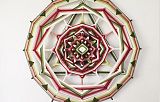 Daniele Petersen
Sherbrooke, Canada
More artworks by this artist
Un matin de printemps, en prévésion d'un pique-nique en après-midi. Température tiède, le chant des oiseaux, nouvelles feuilles dans les arbres d'un vert tendre, papillon qui voltigent autour des nouvelles fleurs. Tout y est.
Leave a comment
You must register or login
You must be logged in to follow. Please register or login to continue.