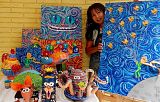 Dania Morales
San José, Costa Rica
More artworks by this artist
Sculpture made with recycled wood and paper, clay covering the children body and fabric in the dress. This sculpture reflects the infance, how the children enjoy every moment, in any place at any time..
Leave a comment
You must register or login
You must be logged in to like or follow. Please register or login to continue.