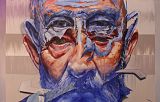 Corné Eksteen
Durban, South Africa
In Gallery
More artworks by this artist
This series explores personal identity as an ever evolving state of self-awareness trapped in a timeline that is commonly known as life. It reflects on the internalised interaction between self-perception and an ever transient environment, where we have to negotiate a personal path towards meaning and self-actualization on a daily basis. The work serves as momentary pauses en-route this journey or points within a timeline where the impact and interplay between the binary and the fluid, the conscious and sub-conscious collide. The images reflect on these moments of clarity when our own self-perception, our physical form, gender identity etc. momentarily reaches a state of balance (symmetry) or complete dissonance. Visually these works are portraits constructed using some principles of the commonly used Rorschach test. The Rorschach test is a psychological test in which subjects' perceptions of inkblots are recorded and then analyzed using psychological interpretation, complex algorithms, or both. Some psychologists use this test to examine a person's personality characteristics and emotional functioning. It has been employed to detect underlying thought disorder, especially in cases where patients are reluctant to describe their thinking processes openly. These works attempt to mimic aspects of this test in an attempt to illicit an emotional response or an introspective realization relating to the expression of their identity.
Leave a comment
You must register or login
You must be logged in to like or follow. Please register or login to continue.