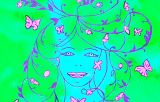 Corinne Brossier
L'Isle-Adam, France
More artworks by this artist
STYLE
Abstract, Contemporary Art, Expressionism, Surrealism
Certificate of authenticity
Yes
Acrylique sur papier Franchir un cap ou l'art de naître et renaître à volonté, vivre dans le grand tout en respectant son pouvoir, être conscient de toutes les possibilités qui s'offrent à nous, choisir un autre modèle de fonnctionnement selon vos propres sens ou les fuir … Nous avons toujours le choix ! Quand le processus des "habitudes" change de paradigme (sortie du paradigme causal), la personne met en place une nouvelle trajectoire selon ce qui jaillit du coeur de notre être profond. Changement d'orbite, nécessite de se libérer de l'inessentiel, oser le risque du déconditionnement, de déplaire aux autres.. Aller vers qui nous sommes, coupe les liens d'intrication (toxique), reconnecte à d'autres liens qui vont nous nourrir et nourrir les autres, oser faire d'un obstacle une opportunité. C'est une invitation à grandir. Nous permet des réunir toutes nos forces intérieures pour nous transformer.
Leave a comment
You must register or login
You must be logged in to like or follow. Please register or login to continue.