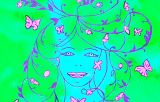 Corinne Brossier
L'Isle-Adam, France
More artworks by this artist
STYLE
Conceptual, Figurative
Le Pouvoir intérieur c'est nous-même, cet être qui a confiance en lui et vit dans la joie et l'harmonie. Il s'exprime à travers notre créativité, intuition, inspiration, notre passion pour ce qui lui tient à cœur, pour ce qui vient du coeur et nous fait vibrer. Il est la partie divine qui nous habite dont nous n'avons pas toujours conscience avant de nous rappeler qui nous sommes. Pour entendre son message, ressentir sa présence, nous le reprendre, il nous suffit de faire le calme en nous. Déployez vos ailes, Devenez comme le papillon qui prend son envol suite à sa transformation.
Leave a comment
You must register or login
You must be logged in to like or follow. Please register or login to continue.