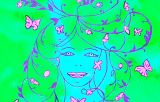 Corinne Brossier
L'Isle-Adam, France
More artworks by this artist
MEDIUM
Acrylic, Mixed media
Acrylique sur papier Notre guidance intérieure ou intuition, cette petite voix toute douce qui chuchote en nous lorsque nous sommes dans la paix du silence intérieur. En communication directe avec notre authenticité, à travers un mot, une image, un son, une sensation, elle nous parle, nous propose de poser un acte dans l'instant. C'est toujours simple et clair. Souvent décalée de notre éducation, de nos croyances ancestrales, nous la laissons de côté comme une "idée" farfelue sans aucun sens alors qu'elle est la pierre indispensable à la construction/mise à jour de notre édifice personnel.
Leave a comment
You must register or login
You must be logged in to like or follow. Please register or login to continue.