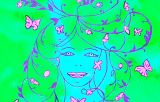 Corinne Brossier
L'Isle-Adam, France
More artworks by this artist
STYLE
Conceptual, Figurative, Mixed Media, Naive, Other styles
MEDIUM
Acrylic, Watercolor, Mixed media
Acrylique et aquarelle sur toile Clin d'oeil au symbole de "la fleur de vie", les Fleurs de Vie nous invitent à nous relier notre présence divine, à tous ses flux bénéfiques, et par l'extension à l'Univers, à maintenir et/ou retrouver équilibre et harmonie dans les périodes de transition, poser les actes nécessaires à notre évolution. Placé dans une pièce augmente énormément le niveau vibratoire en rétablissant l'équilibre avec les forces telluriques du lieu, annihile tous les effets néfastes des ordinateurs et autres émetteurs d'ondes électromagnétiques.Recommandé entre-autre pour tous lieux de travail thérapeutique.
Leave a comment
You must register or login
You must be logged in to like or follow. Please register or login to continue.